January 2005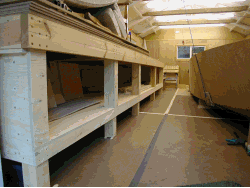 The workbench now has doors. Although the place looks like it's still going to be doubling up as a store room for at least another month.
If you need any information on fitting kitchen door hinges check out The Kitchen Doctor.
Meanwhile I've started building some new garden steps to improve access. Although at one step per weekend this could take a couple of months before I can use it.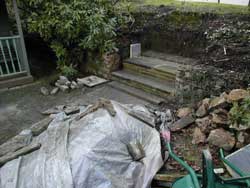 On the boat front. Now that the hull is resting on the floor it needs some adjustable hull supports so I can level it prior to fitting the sheer clamp and the deck frames. The bench was made flat and level but the floor wasn't. The current proposal looks like this.