June 2004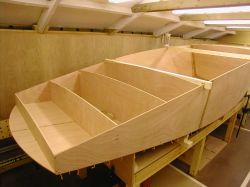 The rearmost four bulkheads, dry fitted prior to bonding.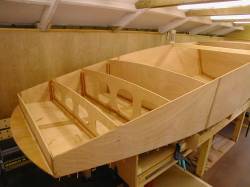 Now lightening holes have been added and the bulkheads bonded in place.
The cockpit shere spreader is still required to hold the correct profile otherwise it's quite fair. Two cockpit bulkheads to go in next then the shere clamp.
Now here's a stroke of luck. The difference between these two mixing sticks is in the end radius detail. I've been using the one on the left for shaping the fillet of epoxy at the bulkhead glue joints. I've now bought the right hand style and the filleting process take less than half the time. Obvious really, I just hadn't been able to buy the full radius version. Check out your local beauty salon supplies stockist, £2.98/100.....