May 2017
An amazing six days in May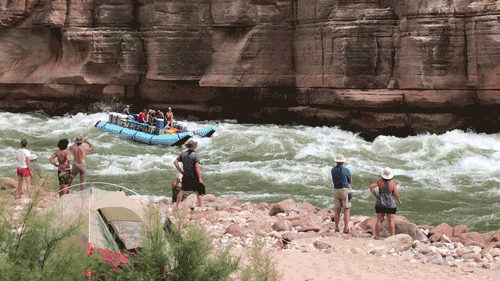 Eighteen months prior we were invited by Pam and Brian to join their group, none of whom we knew before the trip, I might add, for a 6 day rafting adventure down the Grand Canyon.
I shot the above video clip from our evening camp on day 4 watching another expedition, just to give you a flavour of the experience. We had run that rapid some two hours earlier.
On behalf of everyone I think I can say a special thank you to Brian and Pam for organising this spectacular adventure and another thank you to Western River Expeditions for keeping us all safe, well fed and entertained.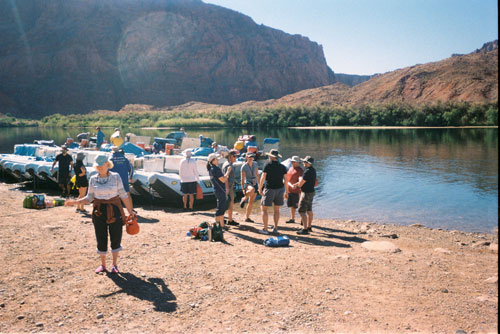 Packing the rafts with our personal belongings. You get a large waterproof bag for your grip bag (max size 24"x12"x12") and sleeping bag. The small stuff goes in your waterproof day bag.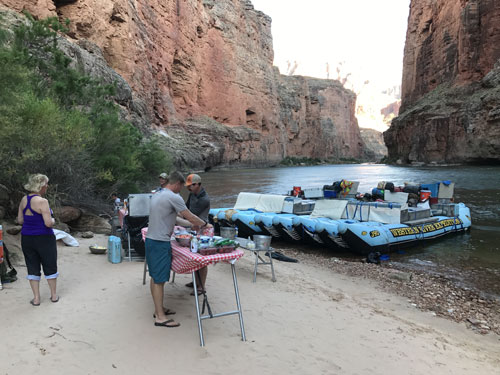 Here we are with our two J rigs moored up for the first evening. The water coming from lake Powell is from the bottom of the dam so very cold, 50 F (that's 10C) so having a wash to freshen up takes your breath away...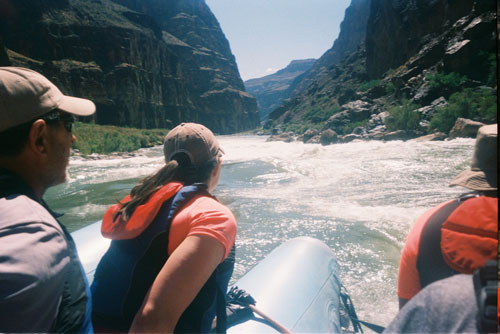 Rapid Ahead....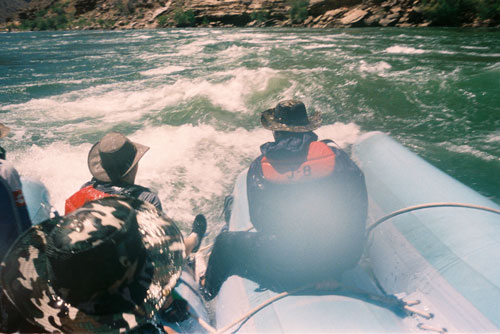 SUCK RUBBER!

The immortal words issued by our helmsman or swampy, basically translated to "Get your head down and hold on TIGHT".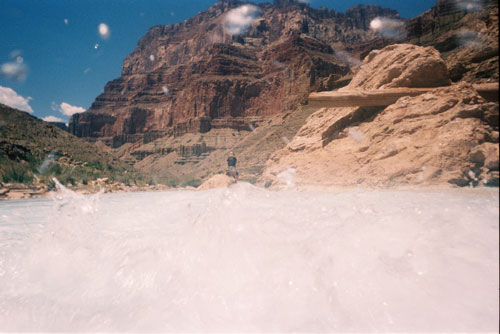 I took this shot with a Kodak single use waterproof camera well past its expiry date. I'm body surfing down the Little Colorado river. An amazing place, the limestone base gives the water a turquoise look. It's warmer than the GrandCanyon river too which is lovely...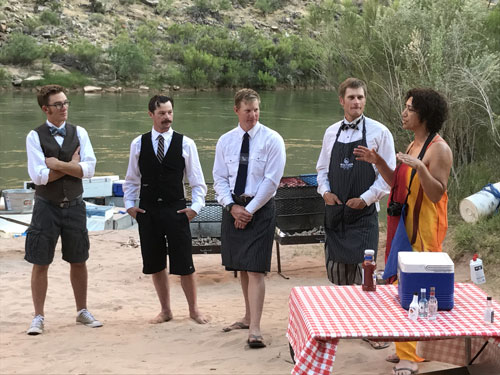 Our Crew, from left to right; Ben, Parker, Jason and Johnny all dressed up for our final evening meal, day 5.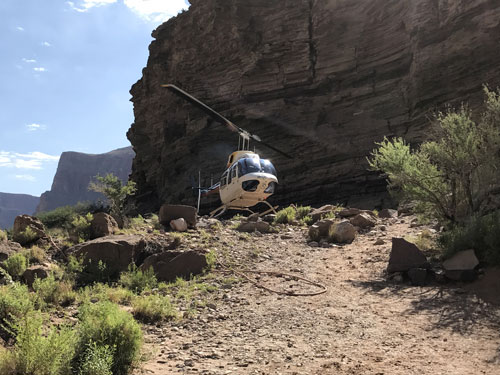 Finally it all had to end. On day 6 we choppered out of the Canyon to "Bar 10 Ranch" for a hot shower and lunch before the flight back to Boulder City and the bus back to Las Vegas.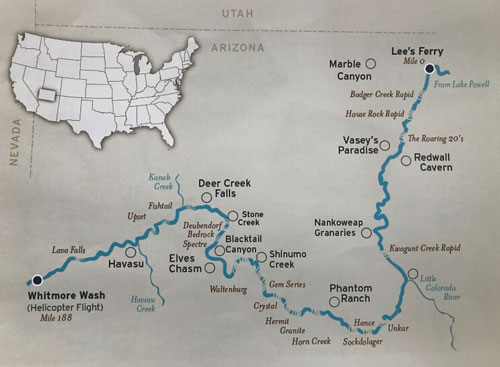 Now for a little more detail.
Western River Expeditions run a very professional trip. they have been doing so for a very long time and have everything down to a fine art.
A typical day sees you wake at 05:00 (This trip is great for cementing ones Circadian Rhythm) with cowboy coffee available from 05:30 and a hearty breakfast from 06:00. Some people slept under the stars and some put up one of the provided tents. Everyone had a cot and sheet or sleeping bag. Typically we broke camp at 07:00-7:30 and headed down the Canyon. There would be a pit stop (Boys one side and girls the other) around 10:30 and we would stop for lunch around 12:30. All the stops are on little beaches or rocky out crops. There is plenty of water and gatorade provided on the rig. The food is absolutely fantastic. We even had icecream on day 3. Everything is carried on the raft including rubbish and waste. They are determined to protect the Canyon and ensure that it's a pleasant place to go and visit. The difficult thing is to gauge the weather, especially in May. So I ended taking a whole bunch of stuff I never wore. However, my best purchase was a splash jacket. I'd been meaning to get one for dinghy sailing but was struggling to justify the expense, that was until I saw one in a sale at Decathlon. The best £18 I've ever spent! The neck, waist and cuff seals keep most of the water out so you can enjoy the experience. In the morning the sun has yet to come over the canyon rim and so if you get wet you stay wet and cold whereas in the afternoon under a clear blue sky you cant wait for the next rapid so you can get wet and cool down.