November 2005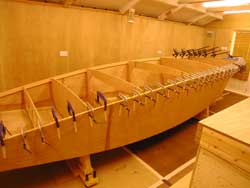 November has got off to a flying start with the bonding of the first starboard shere laminate. In spite of purchasing 40 additional 4" clamps from Axminster , for an incredibly good price of £2.19 each, I only just had enough. I needed to keep the port side shere clamped in position at the same time to try and balance the stresses so that consumed quite a few.
Handling a 20 feet piece of timber, epoxy coated on one face was not as difficult or messy as I had feared. I first coated both the shere clamp and the hull with epoxy then put a second coat of thickened epoxy on the hull and the shere clamp fairly slid into place. Then clamps were added approximately every 6".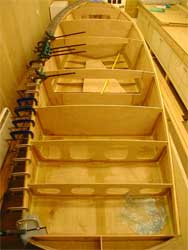 With experience learnt on the starboard side bonding the first port shere laminate was much quicker. Not requiring any clamps on the other shere meant I could reduce the clamp spacing, which although not essential just feels better.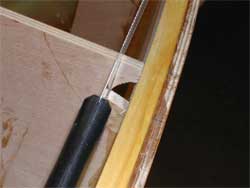 The next job is to cut the bulkheads to allow for the 2nd shere laminate. I'm now a convert to 'pull saws' although remembering not to push still catches me out occasionally...
The one shown in the picture is an Irwin double edge pull saw.