October 2005
The timber has arrived and on time, supplied by 'Capricorn Timber' who was recommended to me by a local timber wholesaler whom I found through the Timber Trade Federation website.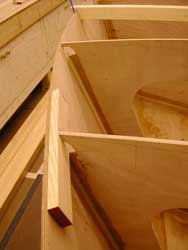 The first task was to fit the shere clamp, a laminate construction of 2 off 50 x 18mm sections. This required trimming each of the bulkheads by 18mm. They were originally cut to full width to allow for lining up with the hull side panels but with a quadrant 50mm deep removed so that the depth for the shere clamp was correct.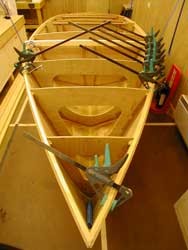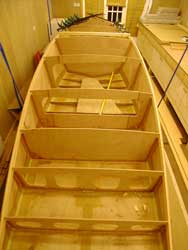 That was the easy bit. Fitting the full length piece of timber was quite a struggle, especially single handed. I did wonder whether 18mm was a little on the ambitious side and that 3 laminates of 12mm would have been a better idea. However, it did eventually go in as you can see. My plan it to leave it as a dry fit for a week to stabilise before I glue it in position and attempt the second laminate...