October 2010
October started, like all months, with plenty of good intentions. But it's taken a huge effort to get down the workshop after a long day in the office. However, I'm inspired by the progress other people are making with their Slipper projects and I mustn't get left too far behind. After all I promised a hull turnover back in the summer and now the leaves are already falling.
There have been a few distractions. Starting with a weekend away at Gleneagles. Something I bought at a charity auction last year. A somewhat strange choice as I don't play golf. But as I discovered there's plenty of other things to keep you occupied.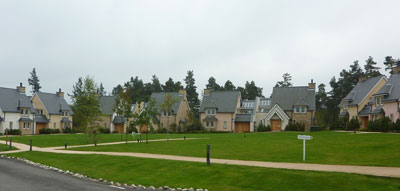 We stayed at Glenmor, a collection of apartments built in the grounds of the hotel. What a fantastic setting. However, the challenge is the weather; When the sun shines, as it did on the day we left, it's glorious. the day we arrived you couldn't see much beyond the Club house.
Back in the workshop the month started with more sanding. This is the disadvantage of building an inside out boat. So in the areas that only the fish will see I'm lowering my standards slightly and accepting what I've got.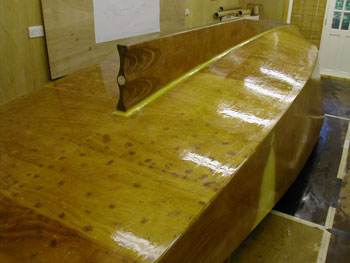 Here's a shot of the hull after I had just finished flatting it off, all nicely washed and ready for the first clearcoat.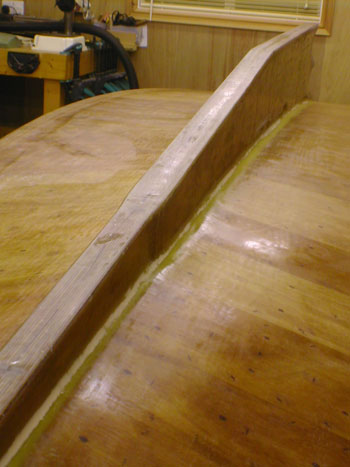 Then, I thought I would just fill in a couple of divits but when you've mixed up 20g you might as well use it all up. In reality I just made myself a whole bunch more work...
After more sanding and washing on went the first of the clear coats. And hard work it was too. It was just like painting treacle which then sags and runs. So the squeegee was kept very busy. When I was packing away I realised my mistake, I'd used std viscosity resin instead of the Low. I didn't realised I had any of the std stuff left; always pays to read the label...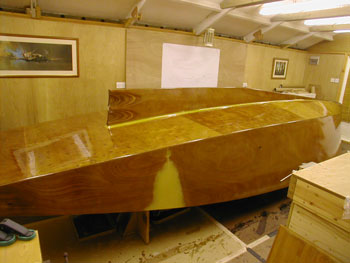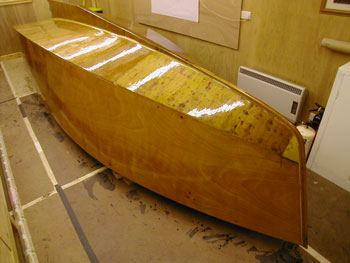 Next month after a weeks vacation it should be ready for sanding and its second clearcoat.